About
Scott Habegger – Marketing Detective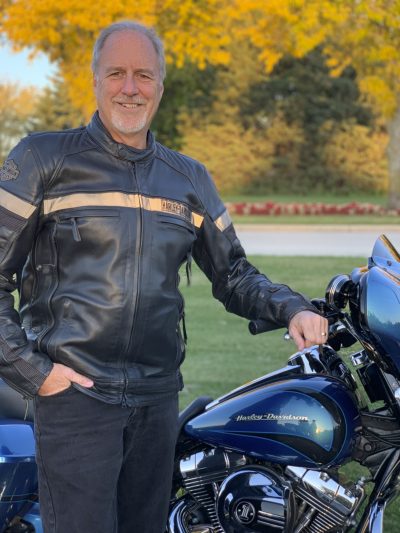 As the former Director of Portfolio Strategy and Management for Harley-Davidson Motor Company, Scott Habegger played pivotal roles in developing and launching some of the company's most consequential new products and product management processes. Most notable is his voice of customer product management leadership on Project Rushmore (all-new Touring product family), which was the largest new motorcycle project in Harley-Davidson's history. He received awards for his work on several processes, including customer-led product planning, product development methodology, innovation, and product launches. His marketing background also includes working at two advertising agencies and his family's retail furniture store.
Retiring from Harley-Davidson in 2019, he founded Trub & Company LLC, a marketing detective agency, specializing in helping companies better understand their customers. In addition to his Trub & Co. consulting business, he is also a sought-after speaker and is on the faculty of the Rader School of Business at Milwaukee School of Engineering University.
Known for his storytelling and down-to-earth understanding of consumer behaviors, he captured his insights in his recent book, "The Marketing Detective: Discovering The Secrets of Small Data to Fulfill Customer Needs." In the book he describes 15 Breakthrough Customer Insights (BCIs) that can be obtained through small data, which he defines as more personal, often one-on-one customer interactions. He calls the book a culmination of his lifetime in marketing.
No matter which role Habegger is in, the customer is at the center of his work. "There is no better place to start a marketing career than working retail," he said. "Interacting daily with customers at my family's furniture store, I quickly learned the need to fulfill customer needs—whether on the showroom floor or on a delivery to a customer's home. Working in advertising agencies, it was imperative to have a deep customer understanding to ensure our communications resonated with them. And of course, as a product manager, the odds of success are much higher when you know you're designing products that will exceed customers' expectations—and you can only do that if you know your customers."
Trub & Company, LLC – Understanding Customer Needs
"I'm often asked how I came up with the name Trub & Company," says Habegger. "It's all about roots—a company's roots and my roots."
Based on his personal experience and observations, Habegger sees an opportunity for businesses to get back to their roots. Helping businesses do that is the purpose of Trub & Company (Trub rhymes with cube). And what exactly are a business's roots? Habegger believes America is filled with entrepreneurs and tinkerers who started out with an idea, most likely based on their own unsatisfactory experience as a customer, and they created a new product or service to improve that experience. The person dissatisfied with a product thinks, "I can create something better than this." And they do create something they find to be better. After getting positive feedback from friends and family, the entrepreneur is convinced there are enough similar people with the same product needs to bring scale to the business. Thus, the roots of the entrepreneur's business are: "I and other people are dissatisfied with the current product offering, and I have a better product for meeting customer needs." Their focus, and thus their roots, is in understanding their customers' needs and creating a viable new offering.
But as their business grows, success can divert their focus away from customer needs. There are multiple reasons this can happen. Perhaps internal pressures are causing new priorities—product features are determined based on what's easiest to design or manufacture, or solely on financial targets, or what's requested by the distribution network, or what the media says should be done, or what will best satisfy Wall Street. While these stakeholders can provide valuable input, each one pulls the focus a little further away from delivering customer needs. Or, maybe the business has expanded and is targeting all-new customers, and therefore these new customer needs are not inherently understood by those creating products and marketing materials. Another potential issue, at the other end of the spectrum, is effectively meeting the diverse needs of many customers via an extensive range of products, yet in doing so the product offering becomes so complex that customers can't successfully sort through all the choices to find the perfect product to meet their needs.
In these cases, it's time for a company to get back to its roots—a deep understanding of its customers. "I'm so compelled by this," Habegger exclaims, "that I named my company based on my Habegger family roots. I grew up in the friendly Swiss community of Berne, IN, and my Habegger ancestors can be traced back to the Trub region in Switzerland. Naming my company Trub helps me keep a laser focus on the roots of every successful company—its customers."
Trub & Co. can help you put your customers at the forefront of your business with a fresh approach to understanding and interpreting their needs, with a proven process to create incremental value through new product design, and with simplified marketing communications. In a nutshell, Trub & Co. provides Insightful Marketing that's led by customer needs and is communicated in a simplified way that will elevate your products to your customers' preferred choice.